Custom Event
Photo Booth Hire
BESPOKE BRAND EXPERIENCES
Experiential marketing and digital activations for brands of all shapes and sizes. 
The ultimate custom event photo booth options, social media exposure and event fun – all branded and ready for your customisation. Choose from filters, digital props, animations and so many more enhancements!
Custom setups to suit your event… roaming, stationary or even vertical to snap the action from above!
At Social Exposure, we're ready to expose your event and brand (in the PG-rated way!) through custom photo booth solutions and technology that will blow your mind! Whether it's for a product launch, shopping centre activity, corporate awards night or 3 day expo, we have photo options for you that range from our Social Mover to our morphing options.
Let us build a bespoke offering perfect for your event. Our experiential marketing campaigns coupled with our oh-so-innovative and unique experiences utilising our custom photo technology, make events worth every bit of the social exposure they're going to get. Whether you want to build your client database, analyse consumer data, get your customers to rep your brand with all the latest swag, or even fly through space (yep, we can actually do that), we've got you covered with a wide range of out-of-this-world features. Prepare to have your (marketing) mind blown!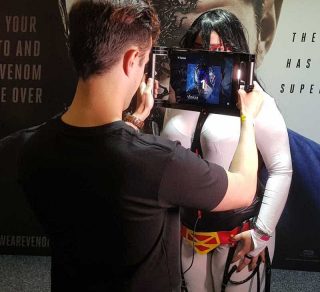 Vertical, roaming, video booths and more! Our creativity is ready to partner with you to bring your event and ideas to life!
Mosaic walls, 360 footage, sliding photo booths.. there is an experience to boost any kind of event
Customised event builds to suit your brand, style and event set-up – there isn't anything our team can't do!
We partner with clients to make sure events run effortlessly utilising our custom photo booth options, our creative design flair, our customised packages and our first class and personalised service.
Introducing our custom photo experiences. Pure genius at building meaningful social experiences for brands.
Our social media tailored photo booths are pure genius at creating genuine social connections between brands and their fans. Use experiential marketing experiences to engage with people. Choose from an option within our deck or let us build a custom event photo booth package designed specifically for the event!
When a standard upright photo activation just won't work – enter vertical photo booth! No idea is too crazy, we can snap any kind of angle!
Amped up GIF Photo Booth on a rail, for adorable living memories your customers will cherish.
Get on board with the latest in live and interactive event experiences. Mosaic walls are dynamite, finding the best of both worlds between on-site event engagement and entertainment and digital sharing and branding.
What better way to capture the fun and laughs of an event than a video?!
The ultimate immersive tool – a perfect blend of marketing and customer experience. Get on the platform and have your moment of glory!
Photos, magnets, stickers, labels – you name it, we do it!
Our unique and portable equipment means we can travel anywhere in Australia and we can work within your budget and requirements.
Our technology and products are adaptable and proactive and our design team lives for those wild ideas that bend the rules!
Get in touch with one of our team today!
"I recently had Social Exposure at the Gymnastics World Cup and they were fantastic to work with."
LET US TRANSFORM YOUR EVENT
Here's the eBook about Social Exposure and how to get up to date with our activations and news. We know you'll love it but don't worry, you can certainly unsubscribe any time! Looking forward to socialising with you!